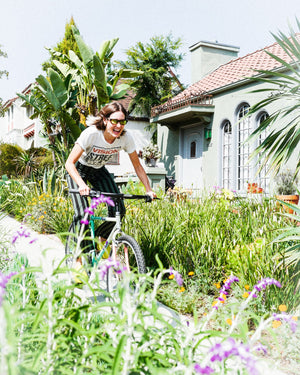 ISSUE 012 - IL DISPACCIO DELLA CORSA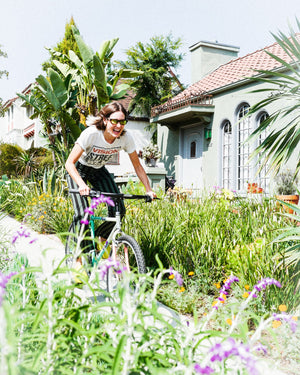 Tales from a Double Life
Jen Whalen is a creative producer/director, aspiring screenwriter and previous competitive road racer. She likes to dabble in comedy, on-camera endeavors, and spandex modeling. She also spends her summers avoiding eye contact with people throwing frisbees at the beach.
How has cycling shaped your career as a multi-faceted creative?  
I was one of those weird kids that would orchestrate plays or dances with my siblings and cousins to perform for the adults at family gatherings. It's been my destiny to end up in entertainment. I grew up in rural Florida, just north of Miami, and was always thinking of the day I would venture out to California or New York— places where things were really happening, man! I was a restless teen punk with a love for surfing, something I was extremely bad at. I'd write notes with my best friend about how we were going to move out one day and pursue our dreams. 
I ended up staying in Florida longer than my teen heart wanted to after I got a scholarship to Florida State University. The film school didn't want me (one of my many lessons in rejection), so I went to the TV and Radio school and got my degree in Broadcast Journalism. Once I graduated, I moved down to Miami.
I was still living in Florida, but now I was in the "cool part." That was where the bike obsession really took off. There were a lot of alleycat races and a thriving fixie scene, and I started "riding, riding" bikes. And then, weirdly enough, that kind of led to an opportunity to work for the Bicycle Film Festival (BFF) in New York. I was like, "Yes! It's time. Beam me up, Sofia Coppola! I don't wanna be Lost in Translation anymore; I'm in a New York state of mind!"
So was BFF what sparked your love for film?
Bicycle Film Festival was my first big exposure to people making films. I saw films being made on a DIY and more indie level, which was exciting because it represented something more attainable. The BFF gave me access to filmmakers and creatives that were leaders in New York's art and nightlife culture at the time. I remember meeting the Safdie brothers multiple times; they would come to the events. How crazy is that? Before Julia "Uncuhjam" Fox made them mainstream, they were at the BFF!  
BFF combined cycling with film, two things I love. Behind the scenes, it was a skeleton crew putting on a hundred film festivals, and we were working crazy hours and then going to whatever party or art show to meet someone for our next event. It required major mid-twenties energy to work the long hours and party all night. So after four years, I was like, "OK, this is very cool, but not sustainable. Time for the next thing." 
We'd also throw alleycat races, which were bike messenger style races, and part of my job was to participate in them to represent the BFF. Through these brakeless death-defying races, I realized I was OK at bikes, my body could push, and I would place well. 
And was that where competitive racing came into the picture? 
Yes. I have a core memory of Dave Trimble, who started Red Hook Crit, telling me, "You're really good at these alleycats, but you need to get a real bike to do real bike races." In hindsight, this unsolicited order cracks me up, but he was kind of right. I bought a Cannondale Caad 10 and started doing just that – in the NY park races. They were like circuit races. You'd go to Central Park for the Women's Race at 5 am. I'd ride my bike from Bed-Stuy to Central Park at like 4 am. We'd race in the dark!
After many early morning race starts, I moved out to LA because I knew I wanted to work in the entertainment industry. I got a temporary job opportunity at Warner Bros., and that two-week job as a writer/producer/director hybrid turned into ten years. It was crazy, though, because I never got to fully dedicate myself to that job for the first five years since I was trying to become a professional bike racer. I was a pretty good Cat 1 on a domestic pro team while trying to work a full-time career job. And since I had to split my time between these two things, neither got to flourish to their fullest capacity. Oh, that's sad. I am super grateful, but how tragic is that?
That sounds extremely challenging, both mentally and physically. What was that experience like for your personal growth? 
Honestly, it was hard to choose one because I needed the other. I loved bike racing, but the average entry salary for a domestic pro was about $10K/year. I felt like I had a double life. I was like Superwoman. I'd train before work and come into the office, change out of my spandex superhero outfit and into my professional wear and black-rimmed glasses. - I kept this up and competed from 2011 to 2017.
But it was tough to jump to the next level of my career as a cyclist and join a big pro team. I was hitting a lot of walls with that, blaming nepotism or outside factors like social media following, which played a huge role at the time for rosters. None of it made sense to me, I would get better results than some of the girls getting contracts, and I got so frustrated, and with the unequal prize money and a healthy amount of sexism in the sport….cue the burnout moment! So in 2016, mid-season, I quit my job, took my team bike, flew to NY, and rode it back home to LA — never to be the same again. 
Tell us more about this adventure. How did that experience shape you in this pivotal moment?  
I learned about this cross-country bike packing ride that this company called Search and Stage was doing from NY. So I was like, "Cool, I'm going to go on this trip, and hopefully, something will change about my routine that is bumming me out." And if not, it'll still be a very sick experience to bring back my Girl Scout skills."
When I got to NY, I was informed that everyone had bailed, and it was just going to be me and one other person I had never met before. And we were doing 100+ mile days. But I had already quit my job and spent so much money on all the equipment I'd need, so I was committed. It took this man and me two months to finish the trip, but by the end, our bond was unbreakable.
During that trip, because I had to care so much for my riding partners, it helped me "feel" again. Feel empathy. I realized that, for most of my life, I'd always had this "hard-ass" thing for protection or something. And bike racing had required me to become pretty selfish. So this trip really broke me open. I came home pretty changed, with new priorities and a refreshed perspective, telling me that it was time to move on to the next thing again. As a final send-off, I decided to enter the CA State Champs race when I got back, not expecting anything but feeling really confident. If I can ride across the country, everything else will seem easy. I surprisingly won it, which was really cathartic and gave me a great way to go out.
After that, I moved away from racing bikes full time and watched my entertainment career grow. I was finally putting time and energy into it and focused on that for a bit, which was really rewarding and exciting.
Did your current career trajectory take off right after walking away from competitive racing?
I don't want to say I walked away; that's very final. I'm just standing on the sideline, refilling the water cooler, keeping warm. I like to keep the door open because I still occasionally race my bike.
After quitting to ride cross country, I ended up returning to the same job at WB at the beloved legacy studio that houses the Animaniacs for five more years. But now, I can say I'm officially a freelance hybrid creative, doing directing, writing, and producing. I think I took so long to take the leap because my job was so cushy, and I knew how to do it well. Also, everyone in this town is trying to do the same thing, so once you're in, you fear leaving that place and "never working again." But I figured, why not keep it going with the impossible dreams? The voice in my head was mocking me. "First, you want to be a pro bike racer; it makes sense that you now want to be a TV creator. You must really like pain. Why yes, I do. I'm a racer, after all. And then, somewhere in there, I was doing comedy, which is also insanely challenging with a 2% success rate, and all three areas are just riddled with sexism. So I've never taken the easy route, but I really like what I'm doing and where this is heading. But it's been worth it.
So what are you currently working on?
I created a female sports ensemble comedy called "California Girls" that I've adapted into a pilot called "Good Legs." It follows a determined group of bike racers as they pursue their dreams of going pro. I really want to see that picked up for a bigger audience. For now, it exists over four shorts on the internet and maybe expand into a web series soon. I also have a screenplay about my cross-country bike trip. I'd love to see that kind of become my Sundance project, so if anyone wants to give me a cool couple mil to make that happen, I'll gladly put your name in the credits. Hell, I'll name the movie after them.
I think the "female sports comedy" genre has been gaining some momentum. We've had "GLOW," and "A League of Their Own" is coming out soon as an adapted series. My main goal is to make things that inspire people to go outside. Inspire more women to get on bikes. To emphasize the beauty and coolness of female friendships and relationships. I'd love to see more women playing sports in mainstream media and raise awareness in a different way other than forcing super depressing gender disparity statistics. There's a way to present these realities with comedy, which is how I deal with many difficult parts of life.
Beautifully said! So, in closing, with so much going on, are you still able to find time to go for a ride and enjoy a Corsa? If so, tell us — What's your favorite?
Bikes rule many things around me, so I gotta ride, no matter how busy life gets. My favorite Corsa is definitely the Heritage Kola. It makes me feel like I got the hickory nut crunch that I deserve after a ride. It kind of brings me back to life. I like Coke, and it tastes like Coke, but it's natural and a little spicy. It's just beautiful.
Follow Jen on Instagram @jennysayyes
Be A Lucky Bastard: Get out in the sun more but also protect your largest organ with this compact sun screen stick.
Los Angeles Invitational: Two day extravaganza out of the Cub House in San Marino, CA featuring three gravel races and a Bike/Car Show & Swap Meet
Breath: Turn the conventional wisdom of what you thought you knew about our most basic biological function on its head.
No longer want to receive these emails? Unsubscribe.
Corsa Co. 1131 Olympic Blvd Santa Monica, CA 90404