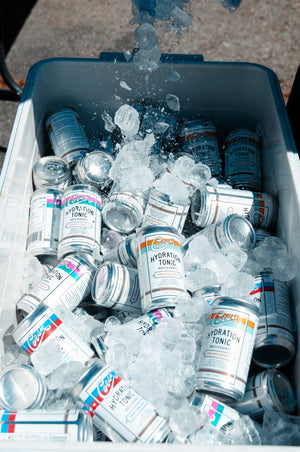 ISSUE 015 - IL DISPACCIO DELLA CORSA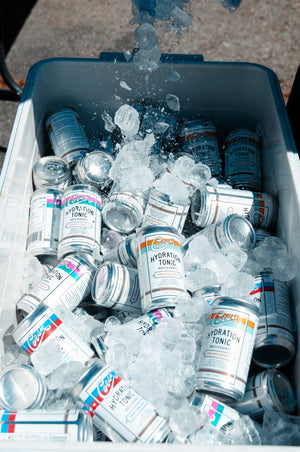 Cranks, Pistons & Gravel
Sean Talkington & Danny Heeley are the duo behind sportswear brand Team Dream Bicycling Team and one of the city's most inclusive cycling events. The Los Angeles Invitational is a two day event based out of their south Pasadena bike shop, The Cub House, comprised of a bike race on day one followed by a car and bike show on the second day.
Photos by Arren Roberson
The official Team Dream VW Squareback basically sums up the event perfectly
First things first – how would you describe the LA Invitational? 
The LA Invitational is really all about doing the ride the way you want. If you want to show up after the start time, that's fine. Or you can also start the ride at 6 am, before the start time, if it's going to get too hot out. That's why we made patches for participants that say, "You did it!" It's less about the time you complete the ride in and more so the type of riding we're doing. 
The cycling routes we have in the Angeles National Forest are some of the best in the world, and getting to enjoy them by stopping to "smell the roses" is what this ride is all about. No one on the course is more important than everyone else and is celebrated regardless of how fast they finish the ride. 
Dominique Powers and her billion dollar smile after a scorching ride through the Angeles National Forest
That's a really positive message to put out into the community. How did the idea for the event come about?
Well, actually, the LA Invitational was born from our yearly Bike and Car Show we put on from our shop in San Marino, aka "The Cub House." 
We would do this swap meet in the back of our previous location every 3 to 4 months, and one day, our buddy Adam Masters was like, "Dude, you should just do a bike show." And we were like, "That sounds so….dope."
You know we had to keep those Corsas extra crispy for these fine folks
Adam put it all together, and a ton of people came out for the bike show. The first one was insane with 250 people there, and our original shop was only about 300 square feet. There was no AC, it was hot, it was crammed, and it was awesome. I remember seeing 50 people in line to get into the store and realized how amazing it felt to create something small but different. So the next year we decided to do cars too and eventually expanded to an even bigger location. 
By the fourth show we had the block officially closed off, and this year saw 850-900 people show up on a Sunday for a bike show/car show hybrid event.
Rare moment of Sean pretending to act serious
And then how did this turn into a two day event with a bike race? 
During COVID, with everything going on and me having a kid, our brand was not really doing much. So now, after being idle for so long, I figured we needed to do something the day before this year's bike/car show to draw more people from other places to come down to LA. That's how the idea of the ride came along.
I talked to Bobby Wintle from The Mid South gravel event, and he was like, "F*ck it, just go for it." We talked to a couple of more brands, and it all worked out. All of these brands are scrappy and agile, just like us.
Bobby Wintle of Midsouth Gravel came all the way in from OK for the festivities
That must've been difficult to plan logistically. What was that experience like? 
It took a lot of volunteers and helping hands to make it happen, like our buddy Hoffman who helped with all the core stuff, or our buddy Danny who made hand-drawn maps as takeaways for everyone. Our friend Larry Ravioli, a bike expert down in San Diego, drove in to set up an aid station for us out on Mt. Wilson. Our other buddy Cheech made 300 peanut butter sandwiches for everyone on the ride too, plus alternatives for everyone with diet restrictions. It was awesome and overwhelming all at once. 
We thought we would get 150 people, and it came out to be closer to 300 the day of. This whole process seemed overwhelming, but we were raising money for a non-profit, and we were willing to ride this wave for as long as we could. All proceeds go to Lowlifes, which is a trail organization.
All shapes, sizes and colors welcome and enjoying
Doing something different or going against the grain seems to be a recurring theme in your events. Would you say blending cars and cycling ties into that? 

The event is definitely representative of what our brand is about and our personal interests. It just felt like a weird, niche event. But we figured, if you like old vintage bicycles you probably like old vintage cars too. You probably like going to swap meets and looking for parts. And the ride kind of felt like an extension of it that just clicked.
Who says cyclists don't get along with motorists? Especially when they're parked...
If I'm being honest, I was nervous when we did the first car show because I thought we'd get heat from the cycling community.  As cyclists, we interact with cars differently than other people. We're always being passed by sports cars on the road. The car guys don't like the bike guys and vice versa. But at the same time, I'd like to tell the car guys that a lot of bike guys like what they're doing (but maybe they could slow down a bit on the road.) Once, I bought the URL "everybody-be-cool-to-everybody" and made a few jerseys with it printed on them. It applies to surfers and paddle boarders, skateboarders and skaters, cyclists and car fans. Typically, everyone's always trying to be cooler than everybody else, but seeing them mutually enjoy each other's company is by far my favorite part, more than any cool car at the show.
Smiles for miles. Bonus points for matching jersey to cans!
Would you now consider yourself to be car aficionados too? 

I definitely wouldn't call myself a car aficionado, especially because there are other people out there who genuinely know so much. I'd say I more so have an eclectic taste, especially when it comes to vintage Volkswagens. But the point of a car show is to have a mix of cars and just to see what models people think are special enough to bring out, like a badass 94' Chrysler Minivan. What's special to you might be confusing to someone else, and you get to see that at a car show/bike show.
Staying cool in the LA heat
Care to share some highlights from the show? 
It was really cool to see Feist come to our show. She actually comes to the shop, and her Karmann Ghia won "Best Car," even though it was parked in some field for months and wasn't clean at all. It was a really cool car and people loved it, which is what we're really trying to focus on with our events. Car nerds and non-car nerds can get together and mutually appreciate a nice car. 
My favorite part is being able to bring together such a diverse group of cyclists and car fans, in a community as uptight and Conservative as San Marino.That's by far my favorite part, more than one specific car. 
Los Angeles Bike Academy representing the future of cycling
You're now juggling the brand, the shop, and the LA Invitational. What does the future look like? What's the legacy you're aiming to build? 
I would say we've never been that brand that thinks about 1, 3, 5, or 10-year goals. We usually just think 4 months ahead at a time. 
Even though we pull these events off with such a small crew, my mind is wired to be like, "Let's do it again! Let's keep growing!" And even as these events get bigger, it still doesn't mean that there's more money coming into the cash register because it takes a lot of money to pull these off. So, in other words, I've never been someone who thinks super long-term for anything. The fact that we did one bike ride is amazing, and if these guys want to do another one, let's do it. 
I'd love to do this again and see it become a bigger part of what we're doing. I'm just glad we did it. I'd be really surprised if we didn't do another one.  I've realized that no one is dumb enough to put on an event like this, except for us! But I'm inspired by other brands and do my own interpretations. I love grassroots movements and doing something that just feels different.
photos: @arrenroberson
Dear Rec-Creative,
When creating Corsa it was very important for me to define specifically who I wanted the brand to speak to, so I came up with this term "Rec-Creative," a truly unique tribe of creative individuals passionately pursuing a recreational lifestyle. Rec-Creatives are guided by the following core values: Growth, Recreation, Collaboration and Service. Growth is the hard part, it's when we step outside of our comfort zone to push ourselves forward and where change happens. Conversely, and equally as important, recreation is when we make time to play and fill our proverbial cup. Then there is collaboration, which is also important because though at times it can be hard, ultimately when we work together, 1 + 1 = 3. Finally, and oft overlooked, is service, which is when we work in the interest of others and for things bigger than ourselves. To me, service is like eating dessert, you can always find extra room in the tank for it, and it can often be that extra room you really need when you're feeling tapped out. While these core values are what define a Rec-creative, they are also very important to me personally and I frequently try to look back and assess my days, months and years to see how I am balancing my time and effort across these values. As a solo-entrepreneur, it's easy to park myself in the growth bucket for so long that I start feeling like a bike rolling backward down a steep climb no matter how hard I push. After 3 years of skipping out on an extended vacation, last year I decided that it was time to bring back the summer break. And I'm so fortunate to say that I did the same this year. It's crazy to think about how these days and at this age, taking a vacation can evoke the same type of anxiety you might feel when working to put together an important presentation or meet a big deadline. My how things have changed from the days when we were kids counting the minutes until summer break. Well here I am happy to report that I'm back from an incredible 19 day journey from London to Paris to Burgundy to Corsica to Sardinia to the Cotswolds and upon returning home, the roof hadn't burned down. Sure the emails piled up and I got a few "per my last email" messages but most importantly I returned as a better version of myself. Rested, recharged, and inspired. I think the beautiful thing that draws me to travel is allowing myself to get "lost" by throwing myself into a foreign place. You see, the beautiful thing about getting lost is that it strips you down to your most vulnerable, raw and real self, then providing the magical opportunity to work to finding your way AND your true self along the way. Whether these core values appeal to you or not, I urge you to make the time and never stop exploring both within and also the beautiful world around you. 
Cheers,
Matt
Founder and CEO
Corsa Co.
Dad Bod: They don't make them like they used to and it seems like sneakers keep getting narrower and narrower. Sometimes, comfort is king. 
The future is going to be as awesome as we want it to be: A collection between Afterschool Projects x Ornamental Conifer combining technical fabrics with casual comforts for everyday wear.  
The Comfort Crisis: Award-winning journalist Michael Easter seeks out off-the-grid visionaries, disruptive genius researchers, and mind-body conditioning trailblazers who are unlocking the life-enhancing secrets of a counterintuitive solution: discomfort.
 
No longer want to receive these emails? Unsubscribe.
Corsa Co. 1131 Olympic Blvd Santa Monica, CA 90404