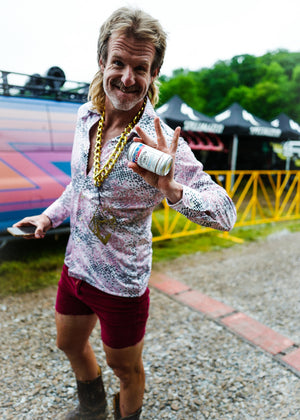 ISSUE 014 - IL DISPACCIO DELLA CORSA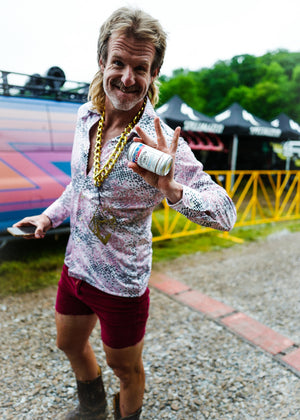 Rip Up The Rule Book
We traveled to Bentonville, AR for the Rule of Three mixed terrain race to see how things are done differently in what some are calling the future center of the cycling universe. We sat down with Co-Race Director, Andy Chasteen, to try and wrap our heads around the whirlwind we experienced. 
The calm before the storm at The Meteor, a cyclist heaven with cafe, bottle shop and bike store.
What got you thinking about starting Rule of 3?
Rule of 3 incubated for a few years before we launched it in 2021. It was me and, co-race director, Lauren's husband, Sam Pickman, who's the Director of Product and Engineering at Allied Cycle Works. He's really the brain behind all the bikes. 
Him and I were out riding some single track on the new Allied Able bikes, which I actually think were prototypes at the time. We were in northwest Arkansas and we were like, "Man, these are the best mixed trails in the country and pretty darn fun to ride on a gravel bike." As a result, we spun off the event into a 50:30:20 split of gravel, road and single track respectively. 
Co-Race Directors Lauren Pickman and Andy Chasteen
In early 2021, I thought we could soft launch and get away with 200-300 people because everyone would be local and not come from across the country. When we eventually opened registration we sold out 700 spots in one day with attendees traveling in from 30-something states. And I was like, "Ohhhh no. Whoops!" We were forced to close down registration after being shocked seeing how many people signed up. 
Luckily for us, COVID cases had dipped a substantial amount between the months we opened registration and the actual event, so it all worked out for us in the end. This year was just our second go at it so we're still very much a baby event.
Style points for Lauren, rain or shine
Why did you decide to feature single track, which has become a defining attribute of this race?
I've always been obsessed with the gravel scene, and I've done most, if not every, big event in the country, looking at this scene from a distance and enjoying it with my friends. But I've never really considered myself an event promoter or frankly even really enjoy putting on events – I just love the end result. Even though I have a day job, I've always had this inkling in my head: if I were to ever put together a gravel event, I'm gonna tear the book up. I'm going to make the event I want to make, and not do it the way other people say you should. That was kind of the impetus for Rule Of Three – create something different.
The vast majority of the big gravel races, whether it be 100, 150, or 200 miles don't have a diversity of terrain, its just gravel. With a diversity in terrain, you have to be "on" all day long and you can't zone out, but at the same time, having this variety of terrains makes the day go by super fast and makes it more enjoyable.
We got lucky with Bentonville because it's ripe for this type of riding. You have to choose your gear, equipment, and tires wisely, which makes Rule of Three interesting. It's not straightforward and you have to think about every decision you're going to make while switching terrains. You'll live with the consequences if you don't because the terrain is brutal. It's just a wild ride!
Choosing the right gear is essential, especially pizza print bar tape 
You mentioned wanting to rip up the "rule book". Seems like you've done that in other areas of the event beyond just the choice of terrain, no? 
I've always been a contrarian and do things differently. It's the way I'm wired. So I took inspiration from all the other events and chose the things I like, or didn't like.
One of the luxuries that I have is that I already have a day job and this event is not about making a profit. It's about putting together the coolest event in the country. Our registration fee was set low at $65 and we plan to always keep it affordable. We also don't take cash sponsorships, but instead ask our sponsors to take the money they would offer us and use it to contribute to the overall event experience. We don't go out of our way to invite and pay for pros. We are centered around everyday people. Podium winners didn't get anything because it's not all about the glory.
Handing out finisher musette bags with Corsa, Beer and Burritos... but make it fashion
Once you cross the finish line at any gravel event, you're always ushered out of the finishing chute immediately. But we do the opposite and throw the party right at the finishing chute so everyone can participate, congratulate their friends, and enjoy a beer, burrito, and Corsa. Offering these perks for free to everybody in a musette right when the cross the finish line encourages people to stay because they've replenished their bodies and can hang around to share their stories with friends. Also thanks to Corsa we had free mullet haircuts and another sponsor offered a free photobooth for people to get their photo taken when they're all grimey right after the race.
Celebrations and war stories in the finisher chute
How do you want the participants to feel at this event? 
I want this course to obliterate people. I want it to be so hard, that when you cross that finish line you're extremely proud of yourself because you should be. I want people to think they just finished the most insane course they've done in their lives. And arguably the most important thing – I want people who cross the finish line to look into the crowd and feel like they know everyone there. You're not going to know everyone there, but I want you to feel like you do. To be a part of a community full of like minded individuals who are passionate about riding.
A little dirt don't hurt!
What were some highlights from this second edition of Rule of 3 that made you particularly proud? 
Our shakeout rides on Thursday and Friday were super cool. We took everybody out on Rule of 3 rides in huge numbers, like 200-300 people, which was so much fun. 
Mother Nature also tried her best to shut us down with some bad weather, but she was (luckily) unsuccessful. Even after temperatures plummeted and it was wet, people still stuck around at the finish line and I could not believe it! That's obviously what we wanted, but we were happily surprised to see it. There was plenty of free beer, food, and Corsa for people to drink and they wanted to stick around to share their stories about the race.
I was really impressed when I got out to experience Bentonville for this race. What's going on in Bentonville these days and what drew you there? 
Bentonville is the future center of the cycling universe, in my opinion. We've got some of the best mountain and gravel biking in the country. The road riding, which never gets much attention, is also some of the best in the country.
You mix this beautiful small town with all the amenities that a city has to offer, and it's a Disneyland of bikes. It's just an amazing place. 
We even put on two free gravel races for our Bentonville community in the winter called Rule of Free. These are really more of a thank you to the local community who support us and always offer to volunteer.
What are your hopes for the legacy of Rule of Three? 
I would say two things:
I want Rule of Three to forever keep its identity, no matter how long it lasts. Whether it's around for two more years or 20, I want its ethos and identity to never change. The day we start taking $20,000 from sponsors or charge $200 for registration, we might as well cut it because we've lost its identity. Its all about putting on the coolest event in the world for the people.
I would also like the term "Rule of Three" to become common nomenclature for everyone wanting to ride on different terrains. I'd love for that to become the common term. I think that's almost more important to me than the event itself, if I'm going to be honest. It's not about the money at all.
Equal opportunity mullets for all
Any big plans for Rule of Three next year?
We've already set a date for next year, and registration opens up on February 1, 2023. We capped it at 1200 people this past year, but I believe we'll cap it at 1500 next year. If anyone reading this is interested in joining next year, I strongly suggest marking your calendar because I have a feeling we'll sell out in minutes. 
We have a brand new course every year, which adds more variety and a sense of "unknown" to the experience. 
We're thinking about introducing an e-bike category for the 50-miler next year, which will is super unique and might be cool. And the reason it might be cool is because most gravel e-bikes can't get 50 miles out of their battery on the highest turbo setting, which means cyclists will have to manage their range. So there's still lots of strategy involved in that. 
In addition to the free mullet haircuts, maybe we'll even do free tattoos! 
We're actually also considering putting on a Rule of 3 mountain bike relay race in the fall thats a total of around 80 miles. There are three major trail systems in Bentonville, so the idea would be that each person in a  team of three would be responsible to ride one of those systems. One of them is a traditional XC course, one is similar with more climbing, and one is a more technical ride. So you can choose which team member is best suited for each of those rides, or who rides first. I'm not aware of anyone else doing something like this, but we envision it as another community building event.
Instagram: Rule of Three, Andy Chasteen, Lauren Pickman
Two Legends Walk Into a Bar...
The Riva Aquarama with twin Lamborghini V-12's commissioned by Ferruccio Lamborghini
The Year was 1968, the days of rationing were over and the opulent days of Le Dolce Vita were alive and well. Riva, arguably the most beautiful object of man made machinery, are the elegant and ridiculously lacquered Italian speedboats that have been associated with wealth, glamour and luxury. Lamborghinis, also often considered some of the most beautiful automobiles in the world, are Italian high performance sports cars, associated with wealth, glamour and sometimes notorious figures. Though not widely known, it is no surprise that these two came together for a once in a lifetime collab that yielded a specimen for the ages. When Ferruccio Lamborghini wanted to purchase a Riva, he wasn't the type of guy to settle for the standard twin V8 engines that powered the Aquarama. Instead, he insisted that two 4.0 liter V12 units with 6 twin barrel carburetors each, designed for the Espada, be wedged into his custom build. Oh, and he gave them only 3 months to do it so that it be ready by August. Salut to you, Ferruccio!
Two Pair Solution: We're traveling carry on only this summer and here's whats coming with us - Bedrock Sandals & Salomon XT6 Skyline
Explore More: With the new W.E.D. (Wilderness Exploration Division) collection from Cadence, you can do more of just that, exploring the wilderness, and we're all about it. 
Psychedelic: In Michael Pollan's book, learn what the New Science of Psychedelics Teaches Us About Consciousness, Dying, Addiction, Depression, and Transcendence.
No longer want to receive these emails? Unsubscribe.
Corsa Co. 1131 Olympic Blvd Santa Monica, CA 90404